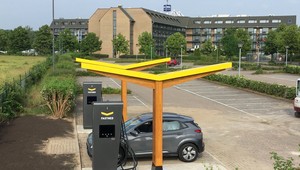 FASTNED FAST CHARGING STATIONS
The fast charging company Fastned, has opened its first charging station in the Berlin region. The fast charging station is located directly at the Van der Valk Hotel Berlin Brandenburg near the Berliner Ring (A10) and is equipped with two 150 kW fast charging columns. Four electric vehicles can be charged here simultaneously and up to one hundred electric cars per day.
Van der Valk hotels are located on main roads, making them a convenient and logical place to charge an electric car. Due to the scalable design, faster charging points can be added in the future to provide the best possible service to drivers of electric vehicles.
Fastned's goal is to build a European network of 1,000 fast charging stations, including several hundred in Germany. Fastned currently operates 116 charging stations in the Netherlands, Germany and the United Kingdom.